BLOG / RESEARCH · BUSINESS SOFTWARE
PROCURING BUSINESS SOFTWARE: THE BUYING PROCESS TODAY
4 min. reading time

---
  01 February 2022  ·     Christoph Bertram

P rocuring business software is a complex undertaking. In the past, it was mainly the responsibility of IT, but today things are different. Many minds are involved in the decision. Read here what characterises today's enterprise software buying process and how to choose the right software.
How do companies go about procuring software? How do they search for the right solution and how long does the acquisition process take overall? If you too are facing a 'software purchase challenge', the comparison of how others do it may help you.
BUYING BUSINESS SOFTWARE OFTEN TAKES OVER A YEAR
The path to new software for business can be complicated and lengthy.
LinkedIn
reports that over 40% of the companies surveyed took
even longer than one year
to acquire their new business software. And until the system is up and running at full speed, it also takes on average another
5 months implementation and training time
.
Even determining into-departmental requirements plays a role in how long it takes. Software procurement is a decision into which
many stakeholders
are involved. The purchasing decision is less dominated by IT departments than in the past. IT is now more of a solution enabler than a purchaser and decision maker. Dependant on size and set-up (multi-national/matrix), other departments such as purchasing, finance, marketing, and sales are additional decision makers in the acquisition of enterprise software, especially when data is created and a critical tool for growth.
WHAT IS IMPORTANT TO BUYERS OF BUSINESS SOFTWARE
If you ask software buyers in the B2B sector what the provider of choice should look like, they likely answer that on the one hand, they want an
established software provider with experience
and at the same time an
innovative and fresh company
. This is understandable because digital technologies are constantly evolving. On the other hand, the solution to be purchased should already have proven itself so that the investment actually pays off.
AVOIDABLE ERRORS
The 10 most common mistakes when choosing Field Service Management software for your business
---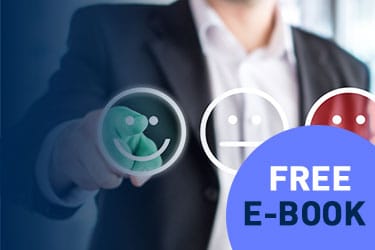 What is important to companies when it comes to new technology? The most frequently mentioned
decision criteria
are:
the price of the software
the availability of products or features that actually meet requirements without further development
the support after the purchase
the versatility and flexibility of the solution ('future-ready')
In our own customer surveys and discussions, however, we repeatedly find that for service companies the
user-friendliness
(such as fewest clicks and transparent outcomes) is almost more important than price. This makes sense because they know how important a good digital user experience is for customers and employees.
And those who purchase software that is not very user-friendly end up suffering from indirect additional costs, for example due to faulty operation and frustrated users.
BEGIN YOUR BUSINESS SOFTWARE RESEARCH
Those involved in software procurement do more intensive research today than even a few years ago. According to
Trustradius
the average buyer of business software now uses around different
7 sources of information
, to lead towards engaging to vendor. The most important sources include:
the website of the provider or the product
reviews from users of the software
representatives of the supplier (sales, consulting)
free trial versions/accounts
NO END TO MARKET GROWTH AND SOFTWARE OPTIONS
Evaluations from
Statista
show that investments in business software are increasing year on year. For the year 2022, analysts expect total business software sales in the UK to reach
8,437 million Pounds/10,062 million Euros
.
Investments will continue to increase: The estimated annual growth rate for the B2B software market is 8.18%. For 2026, the analysts therefore forecast a market volume in the UK of around
10,9 million Pounds/13,7 million Euros
.
CRM AND ERP SOLUTIONS ARE MOST IN DEMAND
What stands out when comparing the different software segments:
customer orientation is again at the top of the list.
Companies invest most heavily in CRM (Customer Relationship Management) systems. In second place comes ERP (Enterprise Resource Planning). The other investments primarily concern business intelligence solutions, content management and the
Supply Chain Management
.
SOFTWARE FOR FIELD SERVICE IS ALSO BOOMING
Also the market for
Field Service Management Software (FSM)
is one of the growth fields. Market observers see Germany as one of the key markets in this segment (more on this and the
FSM market here
).
This fits in with the value that companies place on customer orientation today: An
intelligent solution
for deployment and route planning of the field service not only complements the leading CRM or ERP system. With numerous features and real-time optimisation of dispatching and scheduling, it ensures that customer satisfaction increases.
YOUR WAY TO THE RIGHT BUSINESS SOFTWARE
The path to new business software is lengthy, but does not need to be difficult. By placing regular sense-checks, and by soliciting trusted opinions from third-parties, it can be successful. In the end your company will clearly benefit from the added value of digital tools.
We have outlined the key features of today's business software buying process for you in our
E-Books
. You will also find some of the most important questions you need to answer when assessing and selecting business software. Our compact guides will help you in particular when looking for tools for deployment and route/tour planning. They are transferable to other areas.
(Sources: Linkedin: B2B Technology Buying Survey – EMEA Report, 2021; Trustradius: The 2021 B2B Buying Disconnect, 2020; Statista 2021)