DISPATCH SOFTWARE / DELIVERY SOLUTIONS
---
NEXT LEVEL DISPATCH SOFTWARE & DELIVERY SOLUTIONS FOR HIGH CUSTOMER SATISFACTION
Scheduling software from FLS for all aspects of delivery solutions.

Planning routes and deliveries in real time means your business is optimally prepared, even for unforeseen events. The receipt of goods is often the highlight of the customer journey for any retail consumer, so it's all the more important to prepare this moment in the best possible way, and to ensure that it runs smoothly.

Is digital transformation a challenge or the solution?

Purchasing behaviour and customer expectations have revolutionised service models. For the customer, it is only a few clicks; for you this creates big changes. Generate added value through express services and increase satisfaction in a win-win scenario with intelligent software support.

Are you looking for optimised delivery solutions for your company?


ADVANTAGES WITH FLS SOFTWARE: AT A GLANCE

FLEXIBLE SELECTION
Customers can choose preferred delivery windows - from same-day and next-day delivery, to a future date of choice

AUTOMATION
Automated delivery solutions & desired date logistics processes without manual intervention

TIME MINIMISATION
Up to 50% time saving in scheduling planning and execution; increasing employee & customer satisfaction

PUNCTUAL PLANNING
Always on-time delivery through dynamic real-time planning, current speed & road data and predictive standing times

FAST REACTION
Route adjustments are made in real time, so ad hoc situations such as staff absences no longer cause problems

VEHICLE REQUIREMENTS
Consideration of vehicle capacities such as height and load restrictions

MOBILE SOLUTION
Always in touch with the dispatch desk through FLS MOBILE: live route plan, loading, real-time advice & status

CUSTOMER COMMUNICATION
Customers remain automatically informed via announcements and re-booking options

CUSTOMER PORTAL
Individual, integrated 24/7 self-service customer portal with real-time delivery time suggestions

KPI OPTIMISATION
Improve logistics KPIs with end-to-end transparency, such as drops-per-tour, service times, punctuality rate, service scores

REAL-TIME KPIs
Operational control and strategic planning by means of live KPI dashboards

COST MINIMISATION
Cost savings of up to 20% through optimised route planning for all delivery options
THE BEST DELIVERY SCHEDULING SOLUTION FOR YOUR ORGANISATION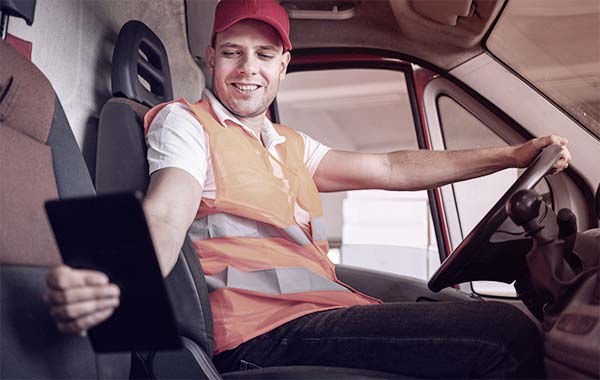 Benefit from a complete, digital mapping of your delivery processes through maximum transparency and service-oriented, automated processes from real-time scheduling to last-mile delivery.
Our app
FLS MOBILE
, which is available as a Progressive Web App (PWA) and as a native app for iOS and Android, makes it possible to transfer individually modelled workflow processes in the BPMN standard directly, and publish them to live within a very short time.
OPTIMISED DELIVERY DISPATCH & DISTRIBUTION PROCESSES IN PRACTICE


LEADING COMPANIES RELY ON OUR TECHNOLOGICALLY LEADING SCHEDULING SOFTWARE
THE SECRET OF THE PERFECT LAST MILE
REWE maps the complete supply chain with FLS products and thus ensures in a cost-efficient way that customers can immediately select a tight delivery window for orders in the REWE online supermarket via web portal.

This way, purchases are delivered to homes on time at the desired date.
Are you looking for a new scheduling software?
Arrange a no-hassle
free demo



»The decision to use FLS VISITOUR and FLS MOBILE for Scheduling and Route Planning was exactly right. Here we can rely on FLS as a competent partner.«
Jörg Unruh · Logistics Manager
---
Newsletter Sign-Up
FLS Real-Time-News – totally free & unsubscribe at any time
---
---