BLOG / SOLUTIONS · AFTER-SALES FIELD SERVICE
WHAT IS AFTER-SALES FIELD SERVICE?
4 min. reading time

---
 3 May 2022  ·     Christoph Bertram

W hat happens to parts and equipment after a sale? Ideally, they're used a lot and in the manner they were designed. After-sales activities in the field (mostly at the installation site) can help an OEM or dealer business stand out from the competition, build long-term customer loyalty, and generate revenue through word-of-mouth. Before you make the move, get to know how field service for the after-sales market works and where you need to start your journey.


WHAT IS AFTER-SALES SERVICE?
In a broad sense, the term deals with continued customer service. Depending on the product and the intentions of the business, the range and quality of this customer service is wide — all services and actions that are offered with the customer in mind, after the purchase of the product or service. After-sales service is relevant simply because the margins in the area of existing customers are often higher than in new customer business. Moreover, it is becoming increasingly important in order to stand out from the competition with increasingly similar products and offers.
WHAT ARE TYPICAL AFTER-SALES SERVICES?
After-sales services come in many different varieties. Typical services, such as are common in after-sales service in mechanical engineering, include:
On-site field installation of machines, systems or software
Training of the customer's employees, e.g. instruction and best practice in new machines
Maintenance and repair of systems and equipment by field service technicians
Support by telephone, e-mail or ticket system
The spare parts business with the supply of spare parts in case of defects or wear and tear
It is best to combine several of these after-sales services in a maintenance or service contract. This way your customers have the confidence when they purchase and can be sure that they will receive comprehensive support over the lifetime of the contract. Especially in the B2B sector, many companies require reliable and secure solutions - after all, they depend on the smooth functioning of equipment and machines.
Read more:
Achieving higher service quality in Mechanical and Plant Engineering
CUSTOMER LOYALTY THROUGH TARGETED AFTER-SALES FIELD SERVICES
For modern long-term customer loyalty, more and more companies are using strategies that go beyond typical after-sales service. Above all, various marketing measures are intended to bind customers to aftersales:
Newsletter reminders
Good news stories in customer magazines
Blog notifications
Invitations to digital and in-person events
Discount vouchers
Competitions
Surveys/active feedback
Upgrades
Supplementary product offers
Newsletters provide after-sales information about your products and services: Information about trade fairs and events gives customers the opportunity to get in touch with your company, in person. A customer magazine is particularly worthwhile if your products and services require a lot of explanation or have many facets.
At the same time, you can inform your customers about the latest developments in the industry and innovations in your portfolio. The same applies to a blog. This platform generally has a higher reach with less effort and is more flexible than a customer magazine.
With discount promotions, raffles and special offers for upgrades, you increase your attractiveness over your competitors when it comes to new purchases. You also increase the chances that your customers will seek accessories for purchases they have already made, which increases overall customer satisfaction.
AVOIDABLE ERRORS
The 10 most common mistakes when choosing Field Service Management software for your business
---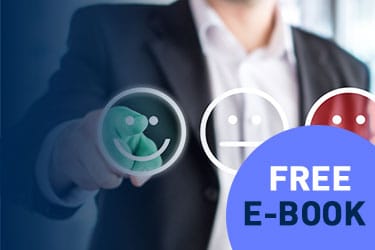 THE EFFECTS OF AFTER-SALES SERVICES
Providing your customers with well organised, comprehensive after-sales services holds many advantages for your company. Organisations who have designed service workflows see results in their KPIs:
Customer loyalty
Customer satisfaction
Revenue
A comprehensive, digitised, and integrated after-sales service does not replace account management - it enhances it. This helps you to learn more about the strengths and weaknesses of your products, therefore getting better over time and sustainably increasing the attractiveness of your offer for targeted groups.
Services such as installation, training, and inspection, and planned and reactive field maintenance ensure that your products work perfectly at all times and that your customers are fully satisfied. If problems do occur, you can react directly and resolve them within the shortest possible time - another plus point in terms of customer satisfaction that increases the chances of long-term customer loyalty.
Last but not least, after-sales services offer enormous revenue potential: profit margins are often higher in the after-sales area than in the sale of the actual product. At the same time, you need less budget for the support of your existing customers than for the acquisition of new customers. Your regular customers and their satisfied recommendations form a strong basis for the continued existence and future growth of your company.
CURRENT TRENDS IN AFTER-SALES SERVICE
Technical developments, changing customer needs and new business models bring about innovations and changes in after-sales service. Companies that need to be at the forefront should be guided by the following strategies.
After-sales field service in conjunction with servitisation
Servitisation
, a strategy in which companies move away from pure products and towards services, is gaining ground in the manufacturing sector. By merging your core business with additional services, you create an inseparable product-service system with higher profit margins that is tailored to your customers' needs.
By focusing more on services, companies remain competitive and future-proof even in the face of shrinking sales figures. At the same time, innovative leasing and comprehensive maintenance contracts set you apart from your competitors and position you as an attractive niche in the market.
Digitalisation and IoT solutions in after-sales service
Maintenance and troubleshooting immediately and without being on site - digitalisation and the Internet of Things (IoT) make this possible. Systems report their status and malfunctions in real time, so that your service technicians only have to
travel to the customer
when it is really necessary.
For your customers, this means an even smoother process with fewer breakdowns. The Internet of Things makes it easier for you to plan operations in advance and efficiently. By deploying your staff as effectively as possible, you save on personnel costs without your customers having to make any sacrifices in terms of service.
It also opens up additional after-sales services: Make the
data you collect and its evaluation available
to your customers and use it to recommend accessories and other equipment to them.
Professional route planning for optimised customer service
The view of customer service is increasingly moving away from the cost centre to the profit centre. Good service is a sales argument, and sometimes it even sells other services and products. For your service to be convincing, however, it must do its homework. Customer tolerance for long waiting times, unspecific time windows ('Our technician will visit between 8 am and 6 pm') and poorly prepared appointments is decreasing.
This is why many companies are investing in professionalising their service organisation. With
intelligent field appointment and route planning
, your service technicians and field staff can be deployed exactly when and where your customers need them. This means that your partners can rely on quick help on site at any time - without you having to increase the budget for personnel.
Professional appointment and tour planning relieves the workload on scheduling and optimises order processing. In this way, you lay the foundation for further after-sales services. Because you can only tap further potential if your processes run smoothly and efficiently in your day-to-day business. Modern software provides the necessary
freedom and more flexibility in service
.