BLOG / SOLUTIONS · PREDICTIVE ANALYTICS
WHAT IS PREDICTIVE ANALYTICS IN FIELD SERVICE MANAGEMENT SOFTWARE?
4 min. reading time

---
  01 July 2021  ·   James Alex Waldron

T he collection of data and its analysis has reached a new dimension through best-of-breed software. It's creating entirely new possibilities for many areas in service and manufacturing industries. A predictive analytics element is of particular importance in field service management. In part one, this blog introduces why this form of data analysis is important and what advantages it offers.


PREDICTIVE ANALYTICS IN FIELD SERVICE - WHAT IS IT?
In the digitalised world, a huge amount of data is generated and stored every day. For decades, software has proven it's impossible to generate meaningful insights manually. The power of field service management programmes can be harnessed through a well designed and appropriate predictive analytics strategy. Predictive analytics basically means nothing more than 'predictive analysis'. Essentially, the prediction is computed through two forms of analysis. On the one hand, there is the derivation of future events based on data from the past, and on the other hand, there is the statistical analysis of existing data.


WHAT ANSWERS CAN PREDICTIVE ANALYTICS PROVIDE?
Predicting the future by analysing existing data assesses how customers have used field service in the past. How often was a technical service ordered or how great was the need for specific spare parts are frequent questions in this context. Were there any findings on customer satisfaction and has this changed over time? A modern software solution will evaluate the existing data with these goals in mind. The platform works automatically and parallel to the actual daily business. Thus, beginning with a predictive analytics strategy in field service management is a good addition without interfering with everyday operations.


INCREMENTAL SUCCESS THROUGH STATISTICAL ANALYSIS
Statistical analysis of data is essential for companies to be successful in the context of predictive analytics in field service. Again, working in the background, if complex software is used to analyse how often machines break down, how good the performance of the technical field service is or what equipment is needed, the field service can be specifically prepared for these events.

Due to the huge amount of data, an equivalent manual analysis would not be possible in these cases. Think of the software as it's own team, without the human errors or required inteventions.


AVOIDABLE ERRORS
The 10 most common mistakes when choosing Field Service Management software for your business
---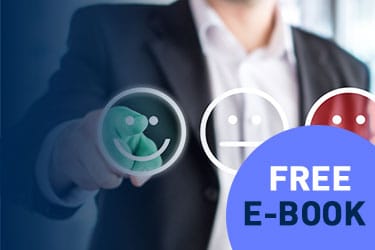 BENEFITS OF A PREDICTIVE ANALYTICS STRATEGY IN FIELD SERVICE MANAGEMENT
For the benefits of predictive analytics to become apparent and effective in field service, it is important that the advantages are understood by all departments, not just Operations. For example, in the course of digitalisation, Finance and C-level departments will find competitive comparison of companies in different sectors (with a field service business model) will become much easier. Competitors are continually evaluating the following critical factors:
Flexibility
Quality of work
Traceability
Reliability
With the right predictive analytics strategy, there is an opportunity to stay ahead of the competition to achieve, for instance, maximum customer satisfaction. This is building loyalty through word-of-mouth and might become the difference in creating future opportunities.
To take our customer service standards and loyalty in practice; avoiding long lead times for spare parts across different times of the year. Knowing when a works ticket comes in is not the same as using data to predict when 10 more tickets will arrive - if at all. Speed and availability are basic customer satisfaction drivers. Taking predictive analytics further for a competitive advantage may mean predicting mechanical failures years ahead of requirements realised.
Predictive analytics in field service is not only of great benefit to the future customer. Field service can also be organised very efficiently for the provider, as soon as tomorrow. Yes, necessary equipment can be procured in a targeted manner, but routes to the customer can be analysed and planned for the best possible outcomes. This saves valuable working time and at the same time reduces fuel consumption for service vehicles (and CO2 emissions reduced). Unnecessary workload is reduced, the first-time-fix rate is increased and efficiency is also increased.
Learn about
predicting future appointment durations based on intelligent values ›
PREDICTIVE ANALYTICS IN FIELD SERVICE MANAGEMENT - AN IMPORTANT PILLAR FOR A SUCCESSFUL FUTURE
Choosing a strategy for predictive analytics in your field service is an indispensable pillar for a successful future. In the course of advancing digitalisation, it is important to analyse existing customer data in a targeted manner and to increase the efficiency of field service on the one hand and customer satisfaction on the other through statistical analysis.
This is the only way that companies can continue to hold their own and remain competitive in the face of growing competition. Those who have not yet implemented a predictive analytics strategy in their field service management should therefore familiarise themselves with the possibilities now, and take the advantages to set themselves apart from the competition.