BLOG / SOLUTIONS · FIELD SERVICE MANAGEMENT SOFTWARE
FIELD SERVICE MANAGEMENT SOFTWARE: 3 TOOLS (AND 7 TIPS) FOR SUCCESS
5 min. reading time

---
  04 May 2023  ·    James Alex Waldron

F ield service management contributes decisively to the performance of an organisation, whether in field service or sales. This article introduces practical advice and tools to help improve your field service management and set yourself apart for long-term competitive success.
7 TIPS FOR FSM
---
1. SET CLEAR OBJECTIVES AND PRIORITIES
Successful field service management begins with setting clear goals and priorities. Define the results and performance you expect from your field employees and set
realistic, measurable goals
. Open communication and regular feedback sessions are important to ensure that all team members are on the same page and are supported to complete their tasks efficiently.
2. TECHNOLOGY TO OPTIMISE FIELD PROCESSES
Digitalisation provides field service management with many new technologies that help improve processes, and streamline workflows. The appropriate technology can become your competitive advantage, from back-office operations to exceeding customer service expectations. The market now offers FSM solutions that extend beyond capabilities within a job management, ERP, or CRM system. Question if your true requirement may be solved with the
integration
of a specialist function (e.g. in-day rescheduling).
3. REGULAR TRAINING AND FURTHER EDUCATION
Invest in the further training and certification of your field employees. This will ensure that your team always has the necessary product and
regulatory knowledge
for your business to take on new orders (capacity and availability). Training can run across the areas of product knowledge, customer care, sales techniques, or the skilled use of technical tools. This is especially important within
servitisation
.
The continuous strengthening of competences not only increases productivity, but at the same time increases employee satisfaction and retention.
What does Field Service Management mean?
Field service management is the planning, organisation and monitoring of all field service activities. The goal is the effective use of employees and work equipment in sales, technical service, and other field service areas. Software for FSM is used for optimal deployment, scheduling and route planning. Mobile FSM applications support your employees at the customer and on the road, increasing process and service quality and ensuring cost-efficient orders and satisfied customers.
4. PROMOTE TRANSPARENT COMMUNICATION AND COOPERATION
An open exchange of live information and close cooperation between the different departments are crucial for successful field service management. Ensure that your field employees and head office staff communicate regularly and share information smoothly. Here, integrated technologies such as video, instant messaging, project management tools, and
scalable mobile solutions/BPMN
facilitate competitive collaboration.
5. EFFICIENT ROUTE PLANNING AND SCHEDULING
Planning routes into appointments has a major impact on the efficiency of your field service management. Take factors such as traffic, weather and customer preferences into account when planning to avoid unnecessary trips and waiting times. Through embedded route planning software, you will optimise routes and increase the number of customer visits. Good scheduling takes into account the workload and break times of field employees to ensure a good work-life balance..



6. MAINTAINING AND EXPANDING CUSTOMER RELATIONSHIPS
Successful sales force management relies on strong customer relationships. Train your field staff to listen actively, respond to customer needs, and offer tailor-made solutions.

Proactive customer relationship management also involves regularly contacting customers to gather feedback and ensure they are satisfied. This fosters long-term, loyal business relationships and enables upselling and cross-selling opportunities.



7. MEASURING AND CONTINUOUSLY IMPROVING SUCCESS
In order to continuously improve your sales force management, a regular review and potential adjustment of your processes and strategies is required. Define measurable key performance indicators (KPIs) such as customer satisfaction, turnover or number of completed calls to assess the success of your sales force management. Analyse the data, identify weak points and develop measures to optimise over short and long terms.



3 DIGITAL TOOLS FOR FSM
---
In addition to strong organisation, field employees need an effective toolkit for their work. Today, a wide variety of tools are available for field service management, ranging from software solutions for deployment and route planning, to supporting apps. As specialists for field service processes, here are three solutions from our group of companies.
1. A SOLUTION FOR SCHEDULING WITH EMBEDDED ROUTE PLANNING:
FLS VISITOUR
Intelligent route planning is central to successful field service management. Plan, schedule, and distribute appointments and orders quickly, correctly and intelligently to field employees. Design efficiency and productivity throughout your field service with live reoptimisation.


With
FLS VISITOUR
field planning software, dispatchers can create the optimal order and deployment planning in just a few seconds. The system keeps an eye on all restrictions such as scheduling requirements, employee skills and SLAs, and determines the best tours, aligned with your objectives for your organisation.
What makes FLS VISITOUR special: Not only is the initial planning fast, but also the reoptimisation. The system recalculates tours within a few seconds if an employee is absent, a customer cancels, or an appointment takes longer than planned.
2. A FIELD SERVICE APP FOR SERVICE TECHNICIANS:
MOBILEX-CROSSMIP
A highly feature-rich field service app to support your people on the road. They always have all order data and the customer or service history with them. Paperless, and directly connected to the head office.


Leading field service apps must be able to do a lot in a small space - particularly in technical service. In addition to forms, checklists and service reports, rich functions related to material logistics are often required. With the service technician app
mobileX-CrossMIP
from our sister company mobileX, there is a powerful solution for precisely these areas.
mobileX-CrossMIP can be easily integrated into systems such as SAP, Salesforce, Microsoft Dynamics, and FLS VISITOUR. The app makes genuine mobile order processing possible, even if there is no network available (offline capability). mobileX-CrossMIP also supports time recording for technicians.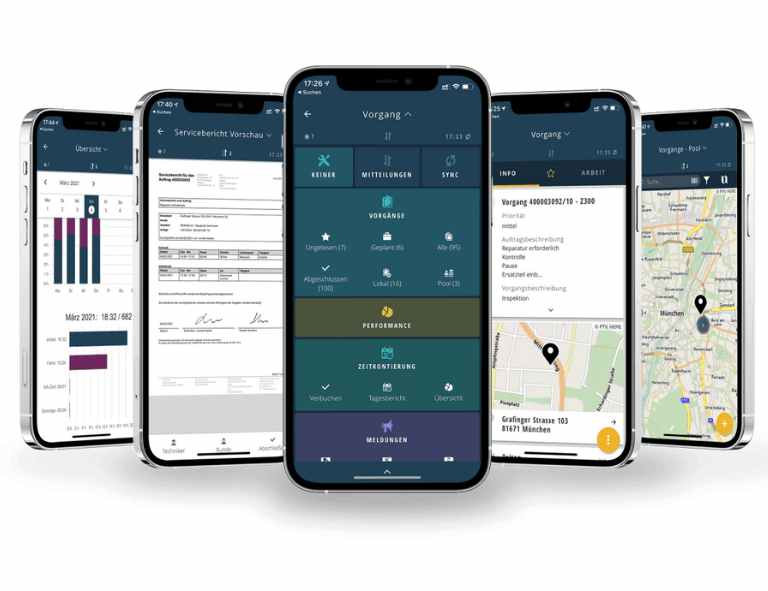 3. A TOUR AND VISIT PLANNER FOR SALES REPS/DISTRIBUTORS:
PORTATOUR®
In sales, it's all about strong territory and visit planning. No customer wants to feel neglected. At the same time, it is important to keep driving times and fuel consumption as low as possible.


This is where a solution comes in that enables more customer visits and fewer miles per visit. After importing your customer addresses, the
portatour®
app determines the optimal tours and routes for your sales representatives and merchandisers. The tool functions as a personal planner for sales professionals.
With portatour®, the sales force visits A, B and C customers at the required intervals. Furthermore, you can not only automatically optimise the visit intervals, tours and routes, but also the strategic territory planning. portatour® can be integrated into the CRM system of your choice, for example Salesforce, Dynamics 365, or Veeva.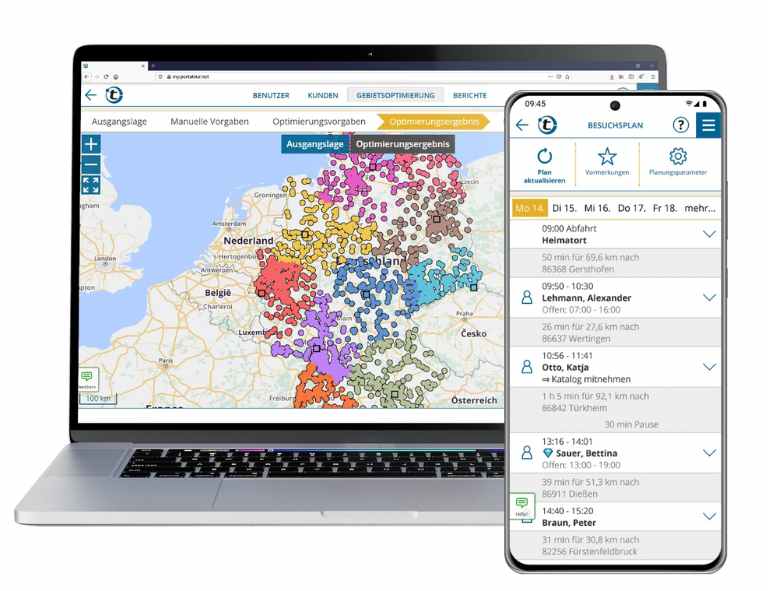 TALK TO FLS ABOUT DYNAMIC FIELD SERVICE MANAGEMENT
Successful field service management is no accident. It is the result of a well thought-out strategy and tools to support continuous optimisation. In the face of uncertain supply chains and increasing skills/labour shortages, it is now (and will be even more) important to design field service management to use the available resources intelligently and efficiently. Invest in the development of your field employees and use the available tools to remain competitive with intelligent field service management.
To gain an understanding of tools to optimise the field experience for your workforce and customers
book a short discussion
or contact us at
info@fastleansmart.com
.
Read more:
Professional Route Planning software:
are you ready?
Field service automation:
next generation Field service
Field service optimisation:
Software to manage in-day cancellations
Field force security with
Field Service Safety software