BLOG / SOLUTIONS · PREDICTIVE ANALYTICS
PREDICTIVE ANALYTICS: CREATING EFFICIENCY FOR FIELD SERVICE OPERATORS
4 min. reading time

---
    16 July 2021  ·     Jonas Hansen

W ith every customer interaction, companies today collect enormous amounts of information that can be used for strategic decision-making. This is where predictive analytics comes into play. Rather than simply analysing the data, the field service technology helps anticipate long-term business outcomes more confidently. Read on to find out what benefits this can bring to your business and field operations.
This is part two of our introduction to predictive analytics in field service management, and highlights more of the design and outcomes.
Read part one, here ›
WHAT IS PREDICTIVE ANALYTICS?
The method uses historical data, machine learning and AI to predict what will happen in the future. At its core, the method answers the question; 'What is most likely to happen based on my current data and what can I do to change this outcome?'. This involves feeding historical data into a mathematical algorithm that looks for trends and patterns in the data and creates a model for them. The model is then applied to current data to predict what will happen next. This makes it an indispensable tool for industries where field service plays a big role.
DIFFERENT DATA FOR FIELD SERVICE
In theory, there are three techniques for predictive analytics: decision trees, regression and neural networks.
The
decision trees
visually represent a path of choices. Each branch of the decision tree is a possible decision between at least two options, while each leaf represents a classification. Decision trees are one of the more attractive techniques for modelling because they can handle missing values and are easy to understand.
Regression
is another popular modelling tool used with continuous data. Different data questions require different applications of regression. For example, linear regression is used when only one independent variable can be attributed to an outcome. When more than one independent variable has an effect on an outcome, multiple regression is the most accurate.
Neural networks
represent the last and most complicated technique. This method is increasingly in demand because perfectly linear relationships are very rare in nature. Neural networks allow for more sophisticated pattern recognition through the use of artificial intelligence.
WHERE DOES THE METHOD COME INTO PLAY?
Advancements in technology have meant that businesses, regardless of industry, can make use of Big Data. Here are some of the most common areas where predictive analytics is being used in field service:
Finance:
Risk management is a key issue in financial instruments.
Analytical prediction helps finance detect fraud and credit risk. Likewise, it helps to increase cross-sell and upsell opportunities while focusing on customer loyalty.
Retail:
The retail sector uses predictive analytics to determine which products to stock and in what quantity. The algorithms study consumer buying behaviour and help determine the likelihood of a particular customer purchasing.
Utilities:
Industries that deal with fuel, energy and water supply benefit greatly from predictive analytics models. For example, they help identify risk factors and predict equipment failures.
Manufacturing:
Identifying quality-reducing factors in production and optimising service and sales are areas where the method is used as well.
AVOIDABLE ERRORS
The 10 most common mistakes when choosing Field Service Management software for your business
---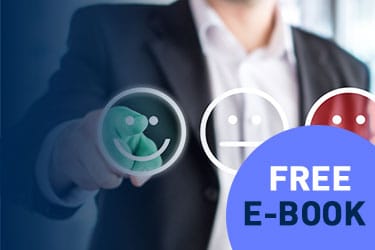 WHAT ADVANTAGES DO PREDICTIVE ANALYTICS BRING TO FIELD SERVICE?
Understanding needs
It provides useful and truthful information about customers and machinery. This includes buying behaviour as well as maintenance intervals or wear durations. With this information, you can get a better understanding of the services you offer. This allows you to plan more effectively to proactively provide the best possible service to your customer base. Not only that, by solving the problems of your target groups, you will convert them into loyal customers.
Better decision making
Predictive analytics also allows you to use past data and trends to make smarter decisions in the future. But the approach goes beyond quantitative data. It also gives you insight into customer reviews, feedback and complaint forms. This information will help you create plans and strategies that are sure to resonate with your target customers.
Be flexible
Historical analysis takes time to derive meaningful conclusions. Therefore, it takes time to identify which strategies are beneficial. Predictive analytics, on the other hand, encourages constant testing. You don't have to wait as long to see if a strategy is working. If something doesn't work,
you can replace it and try another method
.
Detect failures
The framework identifies patterns to detect and prevent criminal behaviour or other failures. It examines all actions on a network in real time to detect anomalies that may indicate vulnerabilities and malfunctions. This enables you to take appropriate action before, for example, machine failure occurs.