FLS VISITOUR / FIELD SERVICE MANAGEMENT
REAL-TIME SCHEDULING FOR FIELD SERVICE
FLS VISITOUR offers unique appointment and route planning optimisation with leading features
such as actual time-of-day driving speeds.

With field service management software (FSM software), you will automate processes, communicate efficiently, and re-write your workflows for a lasting increase in productivity.

Join over 35,000 field service staff members worldwide who are scheduled and continuously optimised using FLS VISITOUR. Our customers range from 30 to 3,000 scheduled Engineers, Surveyors, Inspectors, Advisors, and Salespeople.
WHAT IS FIELD SERVICE MANAGEMENT WITH FLS VISITOUR?
FLS VISITOUR supports the real-time schedule and route optimisation of your field force through proactive task allocation according to your priorities and cost objectives - thereby helping to achieve measurable performance improvement. You will improve service through ability to react quicker to customer callouts and prioritise your team activities according to company priorities. You will save cost by reducing travel, achieving more jobs and full utilisation of your field team.


FLS VISITOUR TO OPTIMISE YOUR VALUE CHAIN
FLS VISITOUR can operate standalone or else utilise the well documented and easy to use Webservices for integration so your users can continue to work in your CRM/ERP system. We have deployment with many systems including Dynamics and SAP. Offer your customers a self-service booking portal. Connect your back office and go paperless. Never lose important data. Give every employee and field technician the tools to succeed with a first-time-fix. Technical components, travel times, fuel costs, duration of repairs that have taken place and the distribution of orders over specific periods inform your future.
This solution is flexible to meet complex individual customer scheduling, yet very quick to configure with little intevention. Decide whether you wish to use FLS VISITOUR for assisted-manual, semi- or fully-automatic scheduling, either way, you are always in control.
DIARY MANAGEMENT AND APPOINTMENT BOOKING
Powered by the unique FLS PowerOpt algorithm, FLS VISITOUR calculates the optimised schedule and routing according to your priorities and the most accurate travel speeds, including current traffic.
If you are an appointment based business then FLS VISITOUR will calculate the impact of adding a new visit in around 1 second, and your service agent can guide the customer with offers of the least costly time slots to achieve these, whilst maintaining your existing priorities.
Consideration of all restrictions, for example employee qualifications or experience, and automated allocation to the relevant orders.
Automatically process large order data and schedule many resources. You always have an overview of the order status and location of the employee.
Avoid surprises with dozens of features, such as geocoding and time-of-day speed profiles for maximum optimisation.
DYNAMIC SCHEDULING
As the day unfolds, e.g. employee absence, cancellations, in-day delays, emergency callouts, FLS VISITOUR reoptimises the existing appointments and routes in an instant, according to your rules.
Prioritisation of service orders and optimised rescheduling in case of emergencies.
Optimal scheduling of your field service - always in real time.
Transparent processes through access to all relevant data.
Increase productivity through the targeted deployment of employees with the skills relevant to the selected job.
Shorten travel times thanks to visibility of available and optimally qualified technicians located near the job site.
Send your employees information on the required tools and spare parts automatically to their mobile devices directly on site.
ADDED VALUE WITH FLS MOBILE: CONNECTED WORKFLOW AGILITY
Our platform-independent mobile solution FLS MOBILE ensures permanent communication with your field staff and also supports real-time appointment and route scheduling in FLS VISITOUR.
Long waiting times until the service technician arrives are more than annoying for your customers. With FLS MOBILE you minimise your customers' waiting time and – at the same time – increase your FSM productivity. By sending a fully automatic client notification to the customer about the estimated time of arrival of the service technician via SMS and by providing real-time-tracking, the waiting time is kept as short as possible.
BEST-OF-BREED APPOINTMENT DATA WITH FLS PORTAL: SELF-SERVICE FSM RESCHEDULING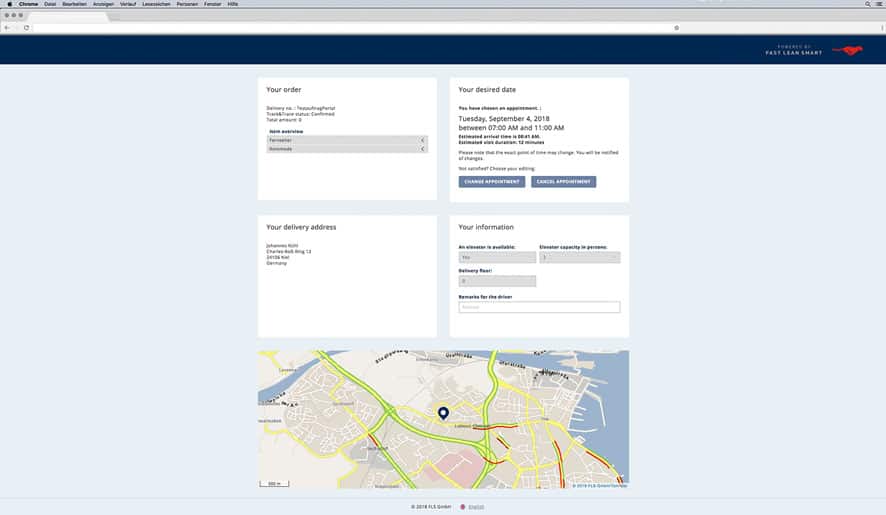 FLS VISITOUR feeds FLS PORTAL with already cost-optimised appointment proposals.
Convenient online appointment booking 24/7 at any location via any online-enabled device.
Offer time slots of your choice, optionally with direct cost indication.
Automatic email or SMS appointment reminder or late message prior to arrival of delivery or field service.
Attended time of arrival (ETA) and current vehicle position can be tracked permanently in the appointment portal.
Cost savings of over 20% through permanent route optimisation in the background.
"Our technicians are able to complete twice as many jobs per day than before and, most importantly, over 90% of Sky customers now feel Sky's in-home service is very good or good."
Field Service Director
SKY
"When a new activity comes in that needs dealing with urgently, the system will reoptimise all the appointments. It looks at the whole resource pool and automatically adjusts to achieve the objective."
Customer Services Operations Manager
BAYWATER HEALTHCARE
"We completed a successful pilot with FLS VISITOUR which proved the technology would enable the expected benefits and supported our business case."
Operations Manager
BRITISH ENGINEERING SERVICES
TEST YOUR EXISTING FIELD SERVICE MANAGEMENT
Selecting a field optimisation software means moving to digital tools that promote the best or most effective use of resources—not only effective now but aligned to future business goals. This can be a long process, and making a choice for the wrong reasons proves costly.
A Scheduling Test is a set of calculations determined with project sponsors, plus many additional tests that encompass FLS' experience of field service management. All calculations are presented back to make it easy for service teams to see and understand why the resulting routes have been created.
GOOD RELATIONSHIPS
START WITH THE FIRST CALL
We are available for you by telephone and email from 8:30 am to 5:30 pm.
Questions about becoming a FLS technical partner? Visit our
partner section
.
GOOD RELATIONSHIPS START WITH THE FIRST CALL
We are available for you by telephone and
email from 8:30 am to 5:30 pm.
Questions about becoming a FLS technical partner? Visit our
partner section
.
FASTLEANSMART UK LTD.
Merlin House
Brunel Road
Theale / Reading
Berkshire RG7 4AB, UK
Phone:
+44 1183 800189
Email:
info@fastleansmart.com